General Motors is putting its foot on the accelerator to speed up its rollout of electric vehicles.
The automaker was planning to introduce 20 all-electric models globally by 2025, but is now increasing that to 30.
CEO Mary Barra told the Barclays Automotive Conference on Thursday that the company is targeting one million electric vehicle sales annually by mid-decade and will spend $27 million on EVs and autonomous vehicles to get there, up from a previously announced $20 million.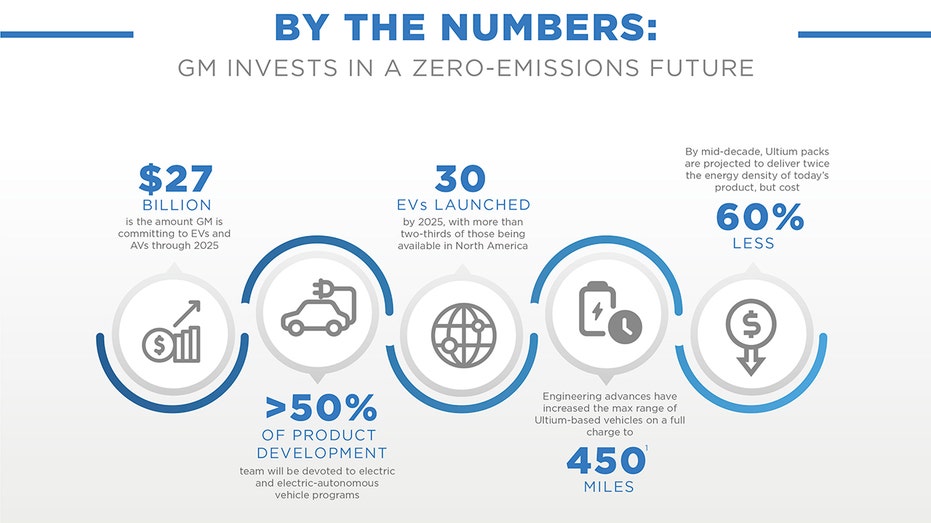 Doug Parks, GM's executive vice president of product development, said a sub-$30,000 model that can cover 300 per charge is on the horizon and that advancements with the company's Ultium batteries will allow them to deliver over a 10 percent better range than expected.
SEE IT: GMC HUMMER EV SUV AND ELECTRIC CHEVROLET PICKUP REVEALED
The timeframes for a dozen key vehicle programs have been moved forward that include four each for GMC, Chevrolet and Cadillac. Among them are a GMC pickup separate from the already revealed HUMMER EV, a Chevrolet pickup and a compact Chevrolet crossover.
GET FOX BUSINESS ON THE GO BY CLICKING HERE
Volkswagen last week also updated its electrification plans with a similar goal of 1 million annual sales by 2025 and a $41 billion investment aimed at bringing 70 models to market across its brands by 2030.
The Associated Press contributed to this report